I won another giveaway,,, well actually i've won 2 giveaways in the past month or so,, and I feel so lucky. I won a gift certificate to
Simple Expressions
. And I cant wait to be able to use it. She does very pretty and unique invitations and announcements. So if you have a need for invitations please go visit her site.
And today I clicked on one of my favorite blogs and found out that I was one of the lucky 5 to win the Charlie Bug Party hat pattern. I'm so excited, I cant wait to make a few of these. I love the
Blue Cricket Design blog
. She has wonderful posts of things she's made and doesnt mind sharing the How To with us. Thanks Becca.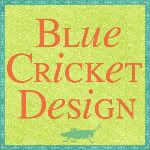 I have big plans of things to work on this weekend and hopefully a giveaway to be announced one day next week,, so be sure and come back by for a visit.