Happy Friday ... Woo hoo!
I didnt get around to doing any kind of projects this week nor did I blog too much so I didnt have any favorite finds to share this week. So instead I thought I'd share the view from my phone.. very interesting im here to tell ya,,,, NOT! But I'm sharing anyway so here goes...
these are empty rolls from tape dispensers.. . i've been saving them for over a year.. my coworkers give
me their emptys too.. (thanks Kate).. I just know there is some good craft project that can be done with
these.. anybody have any ideas you want to share?? Leave a comment or email me.. i'd love to hear.
Amb
- 1st born, future nurse - she took this pic of herself and set it as my
background on my phone.. lol.
Mel
-middle child, soon to be mama - working on
her car that the motor went out in about 4 months after she bought it.. she wanted to help
so her daddy told her things that she could take off/out getting ready to pull the motor out.
Thankfully and hopefully it will be back on the road after the fuel line comes in next week.!!
My sweet and sexy hubby -- love him to pieces!! And my nephew Robert and his daddy,
my little brother, Robert.
Painted this freehand looking at a painting I saw online. Not perfect, but I was ok with it.

we bought a seed starter kit and planted these tomato plants, then I made some newspaper pots
for them after seeing Lindys pots here .. super simple and cheap! They're still alive , we'll see how long they make it.
Daddys boots - took this one afternoon when I stopped by mama & daddys,,
I dont think he even realized I took it. I love it.
Well thats it for today.. I hope everyone has a GREAT weekend.. Stop by Monday to see what I won in a giveaway recently and get in on my next giveaway, 'cause if I win, you win!
Linking up with Gail @ My Repurposed Life for Catch As Catch Can Friday.. see ya there!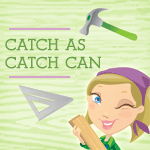 "Our glory is not in never falling but in rising again each time we fall"