EDITING:: Joining the party over at Donna's ~
FunkyJunkInteriors
.. not only does she do some of the most amazing makeovers and projects there's a linky party for window treatments tonight,, so go,, take a look at what everybody has done!!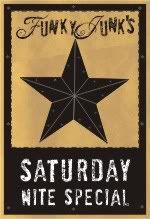 Been finding all kinds of things i want to do this week.. Lindsay from
LivingwithLindsay
featured this bookpage wreath,, and I thought that is too cute and I can do that, so I did it that very night.. this was a really simple project and it didnt take too long, although i think mine might need a few more pages added here and there. If you want to see the original inspiration click
here.
I've had the letters cut out to make this sign for weeks now, I was gonna do it my usual way but decided to paint them on this board that was originally a "BOO" sign from the dollar tree..
I also made a simple little valance for the kitchen window,, which looks much better than the ugly lacy one that was there.. (dont look at the dirty blinds)
A few weeks ago i finally got around to making some drapes for the living room, out of drop cloth, what else? I love them and this material. Got lots of ideas for the rest of it.
Thanks for stoppy by and looking around. I'm off to find more stuff that I won't have time to do.. happy crafting!