I'm joining
Melissa
and some other really great bloggers for a "Favorite Things" party today,, go on over and check out her blog if you haven't already and join in the fun.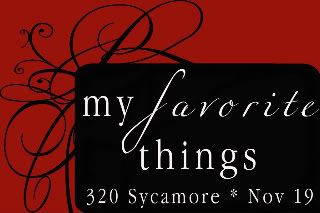 My favorite things . . . and all this is besides my family of course who are my absolutely, hands down, no doubt about it favorites of ALL!!!
*FAVORITE singer of ALL time ~ Loretta Lynn. Ever since i was really young,, i've loved Loretta. She has such a distinctive voice and most if not all her songs have a story behind them. I love that.
*Favorite hymn - "It is Well" ...I love the song and the story behind how/why it was written. I love to hear it sung in church. I only recently learned of the story behind the hymn, I had never heard it before. Its so sad but we gained a beautiful song from it.

This hymn was written after several traumatic events in Spafford's life. The first was the death of his only son in 1871, shortly followed by the great Chicago Fire which ruined him financially (he had been a successful lawyer). Then in 1873, he had planned to travel to Europe with his family on the S.S. Ville du Havre, but sent the family ahead while he was delayed on business concerning zoning problems following the Great Chicago Fire. While crossing the Atlantic, the ship sank rapidly after a collision with a sailing ship, the Loch Earn, and all four of Spafford's daughters died. His wife Anna survived and sent him the now famous telegram, "Saved alone." Shortly afterwards, as Spafford traveled to meet his grieving wife, he was inspired to write these words as his ship passed near where his daughters had died.
(taken from Wikipedia.com)
*
favorite washing powder
- I love that it makes your whole house smell good when your doing the laundry and well since I (or somebody in the house) does laundry every day that's a good thing.
*most
favori-t-e- food
is shrimp,,, fried, boiled, sauteed, shrimp sandwich, shrimp ka-bob, etc,, you get the picture.. I like em any which way they are served.
*
favorite drink
.. COKE,, and preferrably from Sonic.. mmm mmmmm
*some
favorite movies
... Little Women, Coal Miners Daughter, Under the Tuscan Sun, Grease, Dances with Wolves, While you were sleeping
*
Flea Markets
~ We have one near my house and I love to go on a cool day,, you have to dress warm and there are space heaters going through out the building,, its peaceful to just walk around and look. Magazines are one of the things i look for when i go, you can find some good ones and most are 50 cents are cheaper.
*
Favorite books
- Years ago I worked with one of the sweetest ladies i've ever met, Jo, and to this day beleive that God set her straight in my path (another story for another day), but she loved to read. Since it was just she and I in the office and we had lots of down time we read alot during the day. I've always loved to read but had never read any of Janet Dailey's books.. She brought them to work one day for me to borrow and I was hooked after the first one and couldn't wait to read the others. I found them at a yard sale awhile back and even now when I'm just wanting something to read they are still my favorite. If you've never read any of her books,, you really should and these are the perfect ones to start with.
Well these are just a FEW of my favorite things,, I could go on forever but that would be a really long post. So be sure to stop by
320 Sycamore
and read about others
favorite things
.